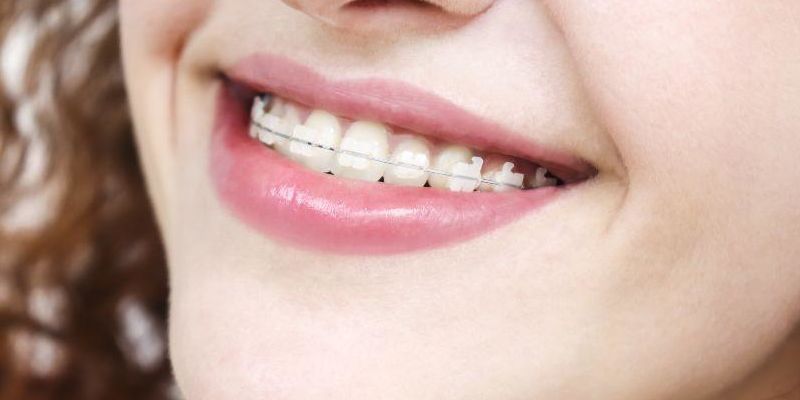 Teeth Straightening
...also known as Orthodontics

Please Read Our Covid-19 Policy. This is our commitment to keeping you safe and will tell you what we need you to do to maintain a safe dental clinic for everyone.
What does teeth straightening involve?
1

Consultation to assess the state of your teeth and how they're likely to develop. Braces used to correct the position of the teeth.

2

You'll need to see us every 5-6 weeks for 12-18 months.

3

Costs start at just £1800 for a single brace
What are the benefits of having your teeth straightened?
Many people have crowded or crooked teeth, or their teeth don't meet correctly when they bite. These problems can mean that your teeth are more likely to become damaged or put a strain on your jaw muscles.
In some cases, abnormal development of the teeth and jaw can affect the shape of the face.
Our expert Exeter orthodontists can also treat other health problems, such as a cleft lip and palate or cases of mild sleep apnoea.
The most common benefits of orthodontics include:
correcting any dental crowding and straightening your teeth
correcting your bite so the front and back teeth meet evenly
reducing the chance of damage to any prominent teeth
and improving your appearance, including your smile
Can anyone have their teeth straightened?
Orthodontic treatment is usually only started after most of your adult teeth have started to come through.
This is usually when you're about 12 years old, but depends on the number of adult teeth and the growth of your face and jaws.
If you are a bit older than that we can start your orthodontic treatment at any age, but do be aware that we won't start your treatment until you have a good standard of oral hygiene as orthodontic treatment can increase the risk of tooth decay.
What types of teeth straightening treatment do our orthodontists offer?
Orthodontists mainly use braces to correct the position of teeth. Your exact treatment will depend on your specific teeth problems.
In some cases, you may have to wear headgear at night, or have small pins placed temporarily in the jaw as well as a brace. You may also need to have some teeth removed as part of your treatment.
The length of treatment will depend on how complicated the problem is, but it's usually between 18 and 24 months.
The first stage of treatment is booking a consultation with a specialised orthodontist to assess the state of your teeth and how they're likely to develop.
This usually involves taking X-rays, making plaster models, and taking photographs of your teeth. Your orthodontist will then discuss the different treatment options.
What are the orthodontic appliances available?
Orthodontic treatment uses appliances to correct the position of the teeth.
The four main types are:
• fixed braces – a non-removable brace made up of brackets that are glued to each tooth and linked with wires
• removable braces – usually plastic plates that cover the roof of the mouth and clip on to some teeth; they can only carry out very limited tooth movements
• functional appliances – a pair of removable plastic braces that are joined together or designed to interact together, and fit on to the upper and lower teeth
Fixed braces
Fixed braces are the most common type of orthodontic appliance. They can be used when a number of teeth need to be corrected, or when the treatment needs to be precise to prevent problems in the future.
You'll be able to eat normally while wearing a fixed appliance. However, you should avoid certain foods and drinks, such as toffee, hard sweets and fizzy drinks, as they can damage the appliance and your teeth.
If you're using a fixed appliance and you play a contact sport such as rugby, you should wear a gum shield to protect both your mouth and the appliance.
Fixed braces are usually made out of metal, so will be noticeable on the front of your teeth.
Many private orthodontists now offer ceramic or clear plastic braces, although they're usually more expensive. Their use also depends on the particular problem and tooth position.
Removable braces
Removable braces can be used to correct minor problems, or as part of fixed brace treatment. They can sometimes be used to discourage children from sucking their thumb.
These braces should only be taken out of the mouth for cleaning or as a precaution during certain activities, such as cycling or playing a wind instrument. Your orthodontist can advise you about this.
Functional appliances
Functional appliances can be used to treat problems with the position of the upper jaw and teeth, and the lower jaw and teeth.
Most people need to wear them all the time. It's very important to follow your orthodontist's instructions about how and when to wear the appliance. If it's not worn correctly, the treatment won't work.
It may be necessary to remove your functional appliance for cleaning and while you're eating.
Invisalign
Lifedental & Wellbeing is pleased to be able to offer Invisalign.
Invisalign treatment is the most advanced clear aligner system in the world, backed by more than two decades of innovation. unlike braces, Invisalign clear aligners are removable and virtually invisible. there are no wires or brackets, so you don't need to change the way you brush and floss. and, you can continue to eat all your favourite foods. For more information contact our friendly Exeter team and they can help you further.
Exeter Teeth Straightening Guide
Looking for more information about your teeth straightening options? Check out our Honest Guide to Teeth Straightening