Wellbeing & Weight Loss Programme
Free Webinar and Six-Session Course

Please Read Our Covid-19 Policy. This is our commitment to keeping you safe and will tell you what we need you to do to maintain a safe dental clinic for everyone.
Welcome to our Wellbeing & Weight Loss Programme
"Health isn't some distant goal. It's not something you become… it's something you do." (Dr Rangan Chatterjee, "Feel Better in Five")
Our new Wellbeing & Weight Loss programme consists of a free webinar, followed by a six-session course run by registered health coach Lou Walker. It will all be run on Zoom.
The webinar is on Tuesday 20th April at 7pm for about an hour, and Lou will stay on afterwards to answer your questions.
The course consists of six 90-min sessions run fortnightly, starting on Tuesday April 27th at 7pm.
The Wellbeing & Weight Loss Webinar
There's more to health than luck and genetics, and the good news is that we all have more power to improve things than many of us realise. Unfortunately, the debate and confusion around nutrition and health obscure the many simple, realistic things that we can do to help ourselves and those we care about. Our bodies are amazing and with a little help from us will respond with renewed vitality, a strong immune system and, if we want, weight loss. It's some of these simple, realistic things we'll look at in our webinar. We'll touch on:

the connections between what we eat (and don't eat) and health
how mental and physical health are tightly linked
how stress and sleep affect weight and health
what the six-session course involves and how to sign up…
… and there'll be time afterwards to answer your questions.
You'll come away with at least one thing you'll want to try straight away, plus a few other simple changes you can make – or perhaps the confidence that what you're already doing is valuable.
The Wellbeing & Weight Loss Course

Our six-session course will include fortnightly 90-min Zoom sessions at 7pm, starting on Tuesday 27th April 2021. Subsequent dates are: 11th & 25th May, 8th & 22nd June, and 6th July.
The course is based on the programme Lou developed to help GP patients lose weight and manage their diabetes. The success of the programme led to it being published in the journal BMJ Nutrition, Prevention & Health. The approach has been adopted by other GP surgeries and now it's available to you!
The course is for you if you'd like to:
lose weight without hunger
improve metabolic health (blood pressure, blood glucose for example)
support your immune system
improve mental wellbeing
improve energy and vitality
raise confidence in your own ability to improve your health and wellbeing.
This infographic explains the main outcomes from the programme when it was run in summer 2020. And have a look further down this page to see what past course participants have said.
What to Expect From the Course
The webinar will set you up for the course and give you a flavour of what to expect. Lou's approach is to help you develop the knowledge, experience and confidence you need to make changes you can sustain. This isn't a standard one size fits all 'diet' where you're told what, how much and when to eat. Instead, you'll develop a set of lifestyle changes which make sense to you and fit into your life. We leave two weeks between sessions to give you time to experiment, try things for yourself and experience the effects.
There are no compulsory menu plans or diet sheets but you'll know where to find them if you want them. You'll know which foods to enjoy freely, which to treat with caution and which to avoid. You'll have access to a huge range of resources to help you build your knowledge and confidence including websites, recipes, books, podcasts, social media forums and more – there's something to suit everyone.
We'll use a low carb "real food" approach that flexes to suit your goals, health and food preferences.

You'll learn how low carb, real food eating dovetails with other lifestyle factors which all contribute to health and wellbeing. These are stress management, getting good quality sleep, physical activity, intermittent fasting, and supporting gut health. And because breaking old habits and making new ones can be hard – especially when food's involved – we'll also look at techniques to smooth out any bumps in the road.
Even though we're talking on Zoom, sessions are interactive so you can ask questions and share experiences and ideas with fellow participants. There is a maximum of eight people per group. Between sessions the support will continue with a private WhatsApp group.
Important: this course does not constitute personal medical advice. If you have any medical conditions you should consult your GP before starting. Low carb eating reduces blood sugar rapidly and can also improve blood pressure. It is therefore essential that if you are on certain medications for type 2 diabetes you consult your GP for advice about medication adjustment before you start the course. You might also need to discuss dosage adjustment for diabetes or blood pressure as the course progresses. It might be useful to print out this guidance, published in the British Journal of General Practice, for your GP. Contact Lou for more information.

Here's what some of the participants from previous courses have said: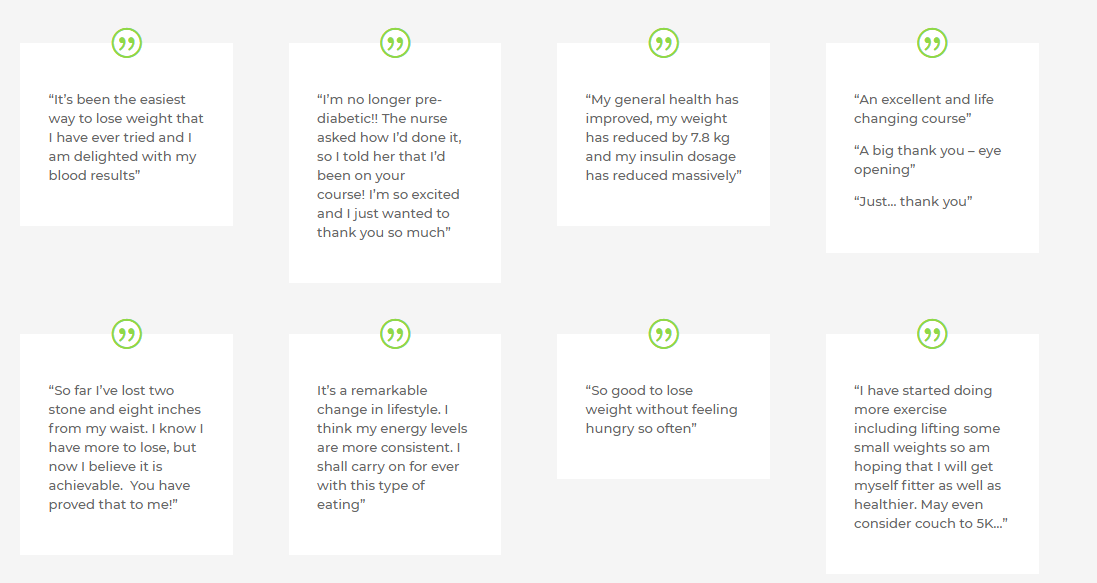 Register for the Wellbeing & Weight Loss Course
We'll open registration for the course the day after the webinar – ie Wednesday 21st April.

To register for the course, please contact the Life Dental & Wellbeing team.
Once our team has taken your payment you'll have access to a private webpage where you'll be asked to fill in some forms, give consent and complete some pre-course work.
The course costs £180.00. This includes:
Six 90-min sessions on Zoom
Permanent access to online resources
Private WhatsApp group support between sessions
Membership of Lou's private Facebook group after the course
Regular Zoom sessions after the course for continued discussion, ideas and support.
We'll register participants on a first-come, first-served basis. However, if enough people are interested, we will run the course on other dates, potentially also including day time sessions. Please let the team know if you're interested in this.