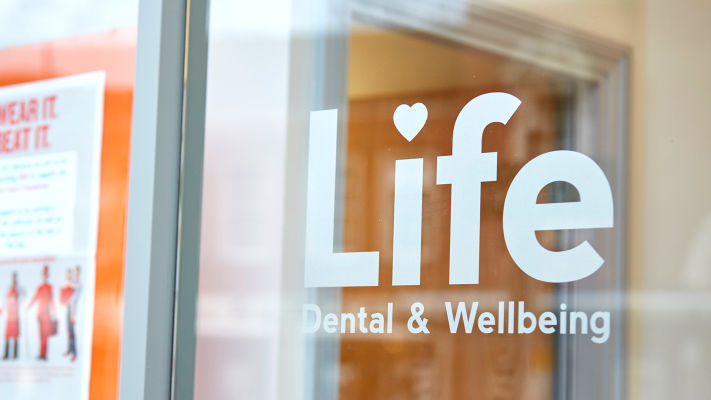 What's been happening at Life this week

Royal Clarence Fire
We were very sad to hear of the fire in Cathedral Yard last Friday and our hearts go out to everyone affected by it. The fabulous Devon & Somerset Fire Service worked tirelessly around the clock to fight the fire and now the clean up begins. Although Cathedral Yard won't ever be the same, something new will rise from the ashes and our brave, beautiful and brilliant city will continue to thrive.
Mouth Cancer Awareness Month
November is Mouth Cancer Awareness Month. You can be reassured that we do Mouth Cancer Checks routinely as part of your Dental Health Check but if you want to find out more information then you can look at their website.
The Poppy is up!
It's time to remember again. The Poppy Appeal is very close to our hearts especially as Ben, Becks and Claire are all ex-military (Royal Navy and Royal Army Medical Corps).
Our giant Poppy is once again displayed on the side wall of Life and you can see it as you are heading down from the High Street towards the Clock Tower. We also have poppies adorning the Living Wall so please feel free to pop in and have a look. If you would like to you can pick up a poppy from the box on Reception whilst you are here.
Let's get knitting for AgeUK Exeter
We've started knitting for AgeUK Exeter. Whilst we don't advocate Innocent Smoothies (there's too much sugar in them for our liking!) we do want to raise funds for AgeUK Exeter and they will receive 25p for every hat we knit for an Innocent Smoothie Bottle. Knitting needles and wool will be available at Life so you can knit for a minute or two when you next come in for an appointment. If you want to get involved in The Big Knit and knit hats at home and bring them in then that would be brilliant - you can put them in the hat in Reception and if you can't knit you can always make a pompom to go on top of a hat instead.
Here's one we made earlier…
…if you think you can do better then why not…
Join our Knit and Natter Group
Our new Knitting and Natter group will take place at Life every Tuesday between 1-2pm. Please join us if you can - I reckon you can knit at least 2 hats in an hour.
Talk on Dentistry and Diabetes
Ben did a talk on Dentistry and Diabetes at the Westbank Diabetic Group this week. He spoke about how diabetes affects your gum and mouth health and the talk was very well received by those attending. If you know of a group or organisation that you feel might benefit from a similar talk please do let us know.
Welcomes
We welcomed our new Apprentice Michaela to Life this week. She has just started her Dental Nurse training at Exeter College so we wish her luck with the course.
Gus Gus the Fish has settled in well to his/her new home on Chrissy's desk.
Don't forget that if you leave us a Google Review you will be entered into prize draw to win a £100 Lovetoshop voucher.
That's all folks – take care on Bonfire Night!
Chrissy Still