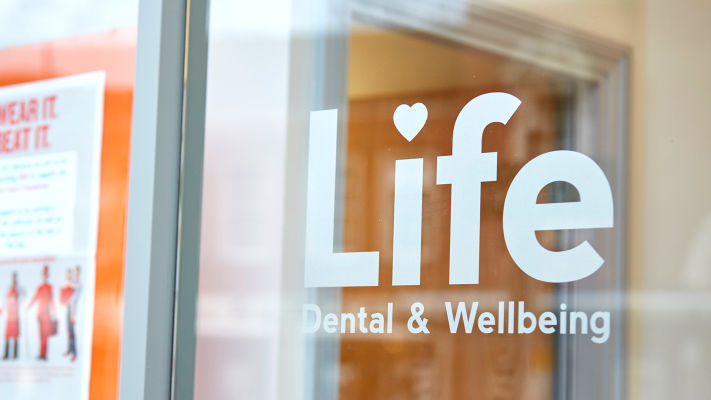 Winners of our Sunflower Growing competition

Life Dental & Wellbeing helps raise £884 for Age UK Exeter's Budding Friends Allotment Project
Everyone at Life Dental & Wellbeing is very proud to announce that our inaugural "Enormous Sunflower Growing Competition" has helped raise £884.01 for Age UK Exeter's Budding Friends Allotment Project. Over 850 sunflowers were watered, nurtured and encouraged over the summer with a number of local families, businesses, schools and uniformed organisations eagerly taking part.
Sycamores Day Care Centre's resident Ron admires one of the specimens
Jacqui Cornish, Community Fundraising manager for Age UK Exeter said some very nice things about us, "Life Dental & Wellbeing came up with a fantastic fundraising idea to raise funds for our Budding Friends project – a project for people with dementia and their Carers. The Enormous Sunflower Growing Competition was fantastically well received across the city by families, school and the businesses community. Raising over £850 in this first year has been absolutely amazing. The team at Life & Dental Wellbeing have taken over this project and made it a huge success. From launch to judging, they have done the lot! They are an example of how businesses can make a huge difference to their communities and we are delighted to have them support us".
And the winners are...
The winning specimen in the under 11's category reached a whopping 2.40m in height. The champion grower was 10-year-old Adam Summerfield who is a Year 6 student at St Thomas Primary School. He was very pleased to receive a book token and an electric toothbrush as his prize and when we asked him how he grew a sunflower so tall, he revealed that the secret is to "put it in the garden where it is nice and sunny and let it get on with it".
The 11-99 age group was won by Mark Forsey of Stephens-Scown Solicitors LLP who wasn't prepared to reveal his age. Apparently the competition at Stephens-Scown was fierce, and when asked about the secret of his success he told us he didn't really know how he did it but he was "just very pleased to beat everyone else in the office". His sunflower reached a very respectable 1.84m and was still in bloom, which was the critical factor. Donna Black from Stephens Scown LLP said, "It really captured the imagination of our staff. It can be hard to come up with new and different fundraising initiatives and this one really worked. Well done to everyone who was involved." The runners up were Sycamores Day Care Centre who had a number of sunflowers that they were nurturing and it is obvious from the picture of Ron that they really enjoyed the whole process.
When the local press asked Life Dental & Wellbeing owner Ben Person about his reasons for championing the competition, he explained, "We were so pleased to be able to raise some money for the Budding Friends Allotment Project. Recent research has revealed that there may be more significant links between gum disease and dementia and so it is a project that we fully support. We hope that the competition will become an annual event. Both this year's winning sunflowers were grown in gardens in the St Thomas area of Exeter so maybe there is something magical in the soil there - who knows?"
A massive thank you to everyone who took part. We hope you enjoyed looking after your sunflowers and that they brought you some smiles over the summer months. We hope to do it all again next year and this time we're going to make sure that the deers don't eat ours from our garden!
Chrissy Still