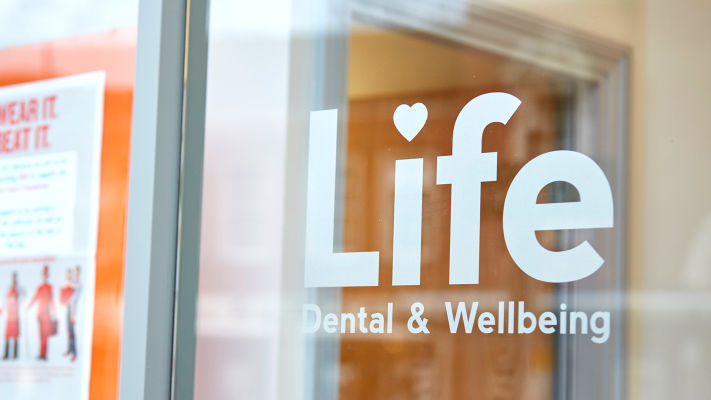 Two awards in less than a week

Life Dental & Wellbeing receive two awards in one week
A fortnight ago, Ben the dentist, our two fabulous hygienists Abi & Emily and myself left Life Dental & Wellbeing in Exeter in the capable hands of Chrissy, our practice manager. We headed up to the glorious city of Oxford for the annual British Society of Periodontology meeting (which is a gum conference to you and me) and an opportunity to attend presentations, workshops and do some networking with other dentists who love gums! Whilst they were doing that I visited the Trade Show and chatted to various reps about bits of kit that we currently use and looked at new innovations that we might introduce in the future - all interesting stuff.
Excellence In Customer Service award at the 2016 Express and Echo Business Awards
Whilst we were there we were very excited about being finalists in the Express & Echo Business Awards. We had already sent our apologies for not being able to attend the awards in person and settled down to a bit of supper to follow the Award Ceremony via Twitter. We were absolutely delighted when half way through coffee we discovered that we had won the Excellence in Customer Service Award and obviously had to have a small night cap to celebrate. We received a lovely 'Front Page' which you can see in the Patient Lounge and there was a great piece about Life Dental & Wellbeing in last Thursdays edition of the Exeter Express & Echo.
2016 Exeter Living Magazine award in the Health category
The same evening that we were proudly showing everyone our piece in the paper, we were at The Great Hall at Exeter University attending the inaugural Exeter Living Magazine Awards. It was a very grand affair hosted by Sharron Davies MBE (the former former competitive swimmer who represented Great Britain in the Olympics and European championships) with lots of excitement and anticipation throughout the evening culminating for us in winning 'a very closely contended category - Health'. The judges said, "Life Dental & Wellbeing provide something different, pushing the boundaries. They have had a very successful year, strong growth and an exceptional long term future", which was very kind of them and rather nicely reiterated that Life Dental and Wellbeing is about dentistry for life. We now have a beautiful stained glass trophy, presented to us by Ben Bradshaw MP, sitting proudly in the patients lounge - do have a look at it when you are next in to see us.
Needless to say we are absolutely chuffed to bits to have won two awards in a week. We work hard to make your experience with us as relaxed as possible and we are incredibly proud of our wonderful team.
Are you looking for a new dentist in Exeter? Choose Life Dental & Wellbeing.
If you are looking for a dentist in Exeter or you know someone who is, then you might consider Exeter's only multi-award winning practice Life Dental & Wellbeing. We don't normally shout about things from the rooftops because of our relaxed approach to dentistry but on this occasion I think we have to make an exception. Two awards in one week - not bad, eh?
Chrissy Still